About Us
Located in the heart of the Hill Country, Burnet CISD encompasses over 700 square miles and serves 3,200 students at six campuses. Burnet CISD has a rich history of excellence in academics and extracurricular activities and is committed to CRAFTING the FUTURE with students. We want a student's experience in Burnet CISD to be a launching point for the rest of his or her college and career experiences.

District Office:
208 E. Brier
Burnet, Texas 78611
Phone: (512) 756-2124
Fax: (512) 756-7498
To find out facts and figures about Burnet CISD, please click on the PDF of the BCISD Data Dashboard below.
District Vision Statement
Burnet Consolidated ISD will craft an inspiring future for each student that embodies spirit, pride, and honor.
District Mission Statement
Burnet Consolidated ISD, in partnership with the community, prepares all students for a successful future in an ever-changing world. We provide diverse opportunities and a quality education that values academics, extra-curricular activities, innovation, and mutual respect.
History of Burnet CISD
In December 1847, a company of the Texas Ranger Division commanded by Henry E. McCulloch established a station at the site of present-day Burnet for the protection of frontier settlers from Indian raids. In March 1849, the station was chosen as a federal fort and named Fort Croghan.

A town was founded next to Fort Croghan in 1852, when Burnet County was established. The town was originally named Hamilton after John Hamilton, who owned a league and labor of land nearby. In August 1852 a post office was established in Hamilton and named Burnet Courthouse. In 1857 thirty-five residents of the town petitioned the state legislature to change the name of the town to Burnet since there was another town in Texas named Hamilton. The name was changed in 1858. The City of Burnet was incorporated in 1933.

The first school in the town of Burnet was a private one taught in 1852 in a one-room log cabin. In following years school was conducted in the old Fort Croghan stone building. In 1885 the first Board Elections were held and six men were elected as school trustees. In 1970 the Bertram Independent School District was consolidated with the Burnet Independent School District to form the Burnet Consolidated Independent School District.
Social Media Guidelines for the Burnet CISD Community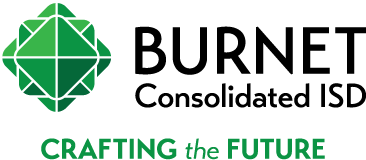 The Burnet CISD Brand
The Burnet CISD logo is an illustration of who we are, what our promise is, what differentiates us from other districts, and helps the community visualize our commitment. We are guided by our mission to prepare all students for a successful future in an ever-changing world by providing diverse opportunities and a quality education that values academics, extra-curricular activities, innovation, and mutual respect.
The icon consists of multiple smaller pieces forming a larger shape. It represents the best qualities of the consolidated communities that make up Burnet CISD, coming together to form something immensely valuable.
We also recognize that we are handed something inherently valuable in our students, each with unique talents we can encourage, shape and teach. Like the students we serve, valuable materials mined from the Earth are raw but possess immense value. Our teachers are master craftspeople, shaping the minds of our kids to bring out their potential. Our goal is to prepare them for
tomorrow's
world crafted to reflect the bright future ahead.
In Burnet CISD, we are Crafting the Future and the future is as unique as each of our students. For some that means preparing them for college or a trade school, while others it means preparing them to earn a certification or enter the workforce with demonstrable skills. One absolute truth that we know is that EVERY student will have a future. Our job is to make sure it is as bright as possible, and with the help of our parents and this community, we will do just that.
Using the Brand
The consistent use of the logo is important in maintaining the integrity of the brand. The BCISD logo should be presented as it was designed when being used throughout the District and community. In order to assist with the consistent use of the logo a style guide has been developed and can be found below along with links to the logo presented in different formats.
Brand and Logo Downloads
Central Office Administration
| | |
| --- | --- |
| Keith McBurnett | Superintendent |
| Dr. Rachel Jones | Assistant Superintendent of Curriculum and Instruction |
| Clay Goehring | Chief Financial Officer |
| Michele Gilmore | Director of Human Resources and Administrative Services |
| Kelly Pieterse | Director of Special Services |
| Matt Busceme | Director of Technology |
| Kurt Jones | Director of Athletics |
| Charlie Goble | Director of Facilities and Operations |
| Kayla Earnshaw | Director of Food Services |
| Josh Albro | Director of Transportation  |
| | |
| --- | --- |
| Casey Burkhart, Principal | Burnet High School |
| Dr. Doug Marvin, Principal | Quest High School |
| Jennifer Stewart, Principal | Burnet Middle School |
| Alicia Harris, Principal | Bertram Elementary |
| Jessica McMullen, Principal | RJ Richey Elementary |
| Abby O'Hair, Principal | Shady Grove Elementary |
For more information on Central Office Administration or Campus Administration, click
HERE
.